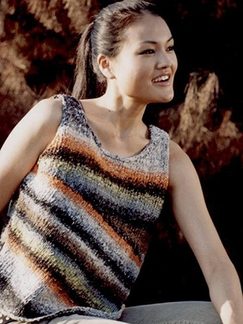 Want a cute, quick, "instant-gratification" kind of project to complete in a weekend? Well, this is it! I'm just about done with my 3rd one! Done on large needles, this adorable a-line tank is flattering on everyone who wears it.
There are a couple of minor glitches in the pattern...
--On the upper front, they forget to tell you to complete the neck/shoulder shaping on the right. Just do the same as you did on the left, simply reversing directions.
--The explanation for picking up stitches for the lower part of the front is somewhat confusing. Here are a couple of pictures of my latest tank in progress so you can see what they're talking about:
Just for fun, I'm making this last one more of a tunic-length. I added 20 rows in the straight knitting on the back (just before the armhole shaping). You can add any amount of length that you'd like, but you need to add those rows in multiples of 4 to work with the front shaping. The upper front is knitted according to the directions. On the lower front, I am continuing the "slanted knitting" for an additional 20 rows (to match the back) before switching to the short-rows that complete the lower edge.
One weekend...one new top added to the wardrobe!! =)